Characterization of the nutritional values of agro-industrial by-products in Namibia as potential supplements of the bush-based feeds
Agro-industrial by-products
Keywords:
By-products, Chemical composition, Organic matter digestibility, Marula oil cake, Pearl millet bran
Abstract
The objective of this study was to characterize the nutritional values of Namibian agro-industrial by-products (AIBPs) as potential supplements for bush-based feeds. Fourteen AIBPs' samples were collected from Namibian local cereals and oilseed processing companies. Cereal by-products were malt dust fine (MDF), pearl millet bran (PMB), malt dust coarse(MDC), white maize chop (WMC), wheat bran(WB), brewer's spent grains(BSG), sorghum brew residue (SBR) and sorghum spent grains (SSG), while oilseed byproducts were olive oil cake(OIC), marula oil press (MOP), jojoba oil cake (JOC), !nara oil cake(NAC), manketti oil cake (KOC) and marula oil cake (MOC). Chemical compositions, in vitro gas production, in vitro organic matter digestibility, and metabolizable energy of the AIBPs were determined in a randomized complete block design and the data were statistically analyzed using a Statistical Package for Social Science. Crude protein, ether extract, neutral detergent fiber, and acid detergent fiber ranged from 7.90 (SSG)-21.95 %( BSG), 1.37(MDF)-9.29%(PMB), 22.23(WMC)-73.06%(BSG), 7.22 (PMB) -30.46% (BSG) respectively for cereal by-products and 7.55(OIC)-37.3% (MOP), 8.11(KOC)-53.55%(MOC), 11.40 (MOC)-58.26%(KOC) and 8.21(MOP)-52.26%(MOP) in oil seeds by-products respectively. The in vitro gas production, in vitro organic matter digestibility, and metabolizable energy ranges for cereal and oilseed by-products were 31.50 (BSG)-70.20ml/200mgDM(WMC), 55.55 (BSG)-83.50%DM(WMC), 9.30(BSG)-14.00MJ/Kg(white maize chop), and 3.80 (MOP)-35.30ml/200mgDM(jojoba oil cake), 38.95(MOP)-59.35%(JOC), and 7.45(MOC)-15.95MJ/Kg(MOP), respectively. The AIBPs investigated in this study comprised of minimal fiber contents, adequate crude protein, and metabolizable energy contents above minimum requirements for ruminant animals.  However, promotion to maximally utilize these AIBPs in animal diets requires further evaluation.
Downloads
Download data is not yet available.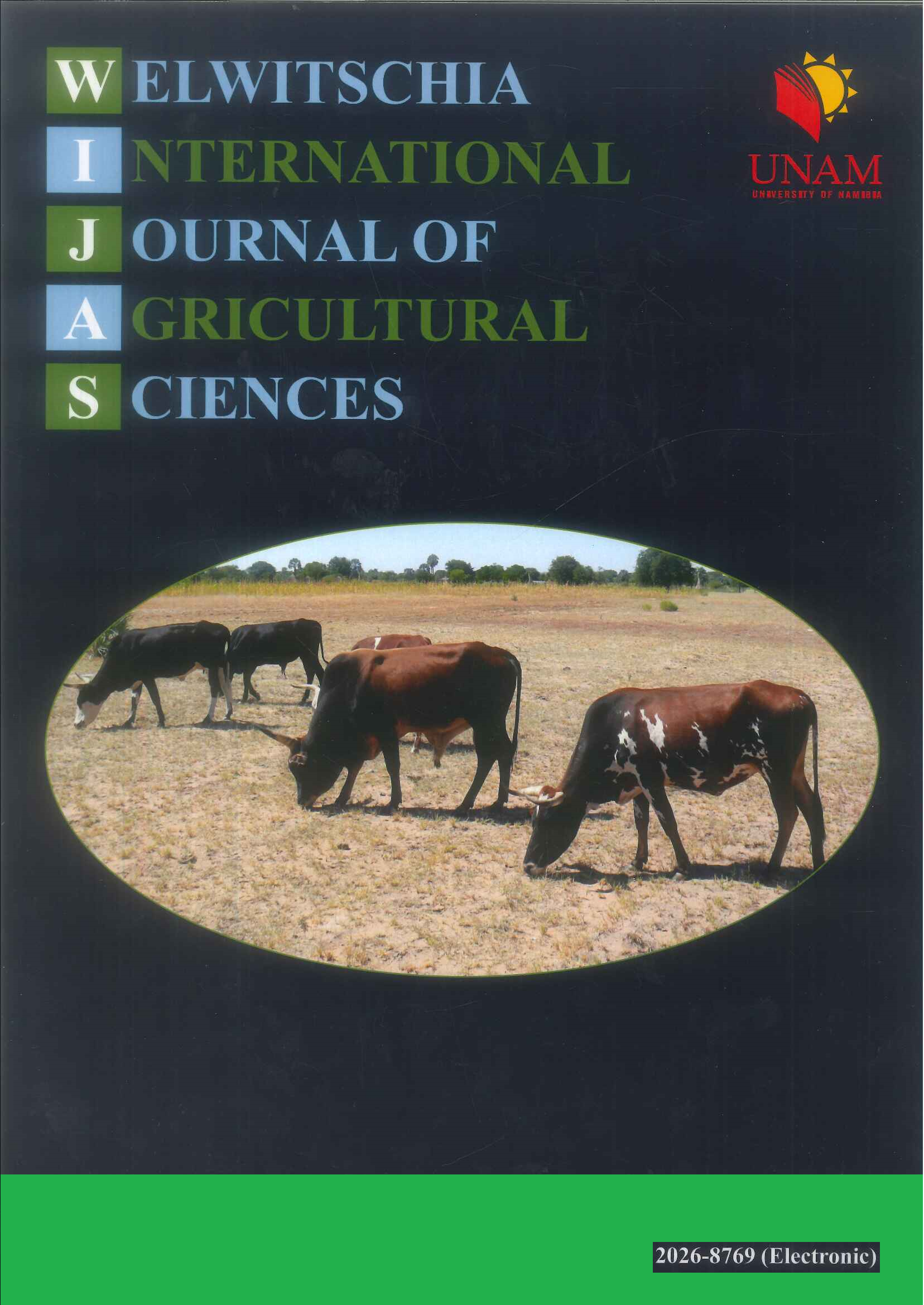 How to Cite
Kamati, M., Mupangwa, J., & Shipandeni, M. N. T. (2022). Characterization of the nutritional values of agro-industrial by-products in Namibia as potential supplements of the bush-based feeds: Agro-industrial by-products. Welwitschia International Journal of Agricultural Sciences, 3(1), 11–22. Retrieved from https://journals.unam.edu.na/index.php/WIJAS/article/view/1572
License
Copyright (c) 2022 Magdalena Kamati, Johnfisher Mupangwa, Maria N. T Shipandeni
This work is licensed under a Creative Commons Attribution-NonCommercial-NoDerivatives 4.0 International License.