The Effectiveness of In-service Training Programmes in Public Sector Organizations
A case study of the College of the Arts in Windhoek, Namibia
Keywords:
Effectiveness, In-service training, teaching skills, teaching performance
Abstract
This study focused on investigating the effectiveness of inservice training programmes provided to lecturers at the College of the Arts. The objective of the study was to investigate the effectiveness of the in-service training programmes at the College of the Arts for the upgrading of teaching skills and specialist subject knowledge of academic staff members. The study adopted a mixed research approach, and made used of a multiple case study design to collect data through interviews as well as conducting lesson observations. According to Cresswell (2003) a mixed research approach offers more comprehensive evidence for studying a research problem. It encourages the use of multiple views rather than views associated with a quantitative or qualitative research only. The study also employed a descriptive design, and used close ended questions to gather data through questionnaires. Content analysis method was used to analyse the qualitative data. Quantitative data were processed using the Statistical Package for the Social Sciences (SPSS) IBM version 21 software package and descriptive statistics were used to interpret the participants' responses. The methodological triangulation of data was accomplished through the use of data obtained through the interviews, observations and questionnaires. The outcome of the research depicted that lecturers at the College of the Arts are qualified artists but are not professionally trained teachers and would therefore find it difficult to effectively transfer knowledge to the students. The study also concluded that the majority of inservice training courses provided by the College of the Arts for the lecturers are not related to the upgrading of teaching
and methodological skills of lecturers. The study recommended that the College of the Arts should set up a training and performance evaluation committee consisting of management members, representatives of the College of the Arts' lecturers, a Chief of Arts Educational Officer, and the President of the Student Representative Council of the College of the Arts. This committee should be required to review the current training and performance evaluation policies of the College of the Arts and align these policies with the College of the Arts objectives. It is further recommended that lecturers should ensure that their teaching is guided by clearly written lesson plans that encourage the development of critical thinking, problem solving and performance skills.
Downloads
Download data is not yet available.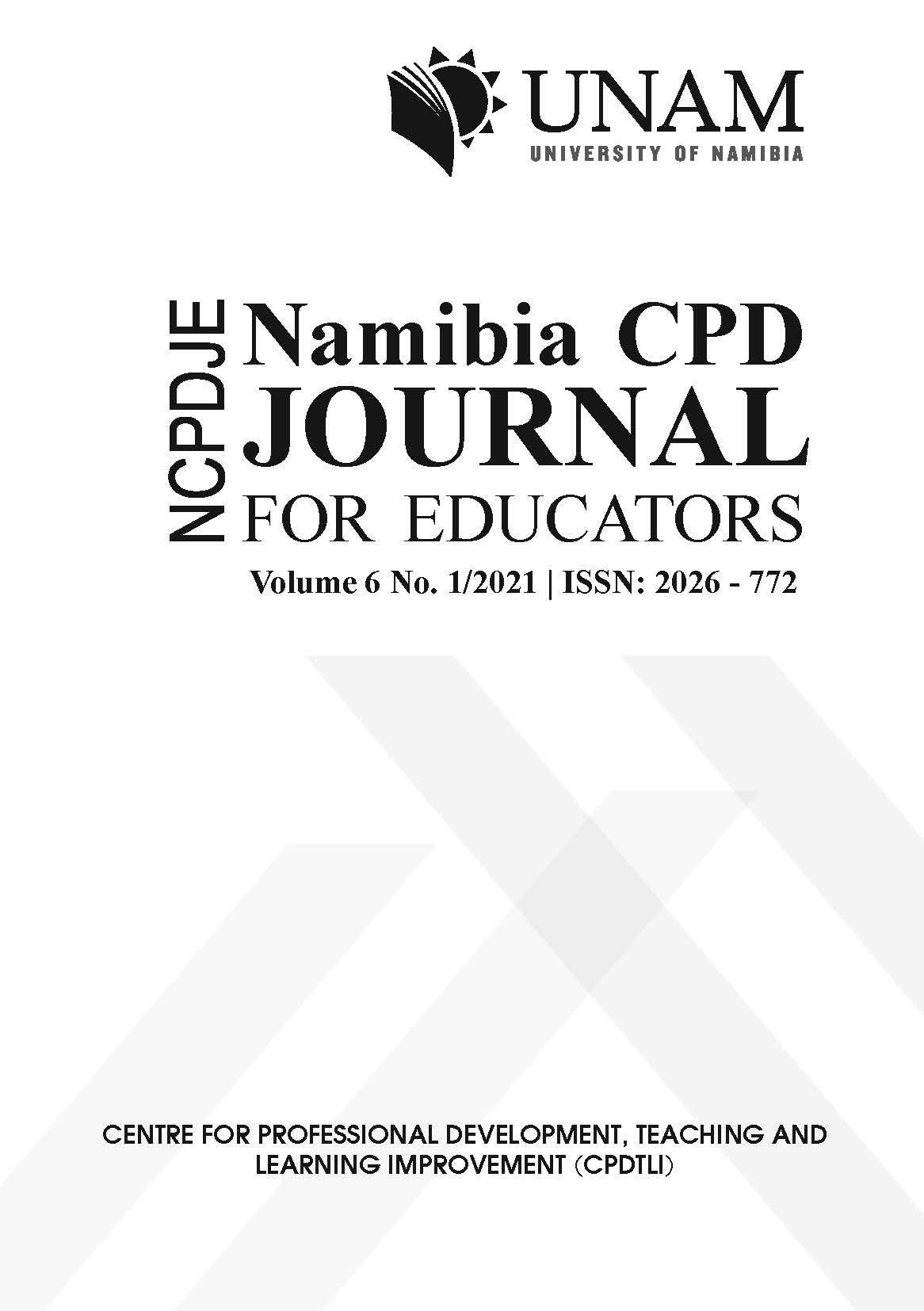 How to Cite
Isaacs, A. J., Lwendo, S. B., & Kazondovi, . C. (2021). The Effectiveness of In-service Training Programmes in Public Sector Organizations: A case study of the College of the Arts in Windhoek, Namibia. The Namibia CPD Journal for Educators, 6(1), 100–156. https://doi.org/10.32642/ncpdje.v6i1.1554