Phytomedicines and nutraceuticals in the clinical management of COVID-19
Potentials and pitfalls
Keywords:
Indigenous natural medicines, Natural products, COVID-19, Clinical management, Challenges, Prospects
Abstract
COVID-19 has exposed what we have long-feared: Many countries in Africa have very fragile public healthcare delivery systems, out-dated clinical laboratory infrastructure, and inadequate home-grown
biomedical research preparedness. These challenges that are an asterisk in the prevention and treatment of COVID-19 in Africa should become the new window of opportunity for novel drugs from indigenous African medicinal plants. Africa needs a drug discovery renaissance inspired by the potentials of the continent's huge endowment of medicinal plants. As a continent, Africa needs to invest in indigenous natural agents that inhibit entry of human coronavirus into cells. Africa
should also develop natural products that block general replication and specific chymotrypsin-like protease-mediated replication of SARS-CoV-2. Turmeric, Eucalyptus essential oil, garlic, cinnamon plant, and Ganoderma mushroom are being used to offset the effects of COVID-19 in many parts of the world. Plant active compounds such as glycyrrhizin, iguesterin, resveratrol, homoharringtonine, tomentins A-E, sinigrin, silvestrol, and cinnamaldehyde have anti-COVID-19 actions. Due to current obstacles in the clinical management of COVID-19 in Africa, this paper advocates for the use of indigenous natural medicines to roll-back the pandemic.
Downloads
Download data is not yet available.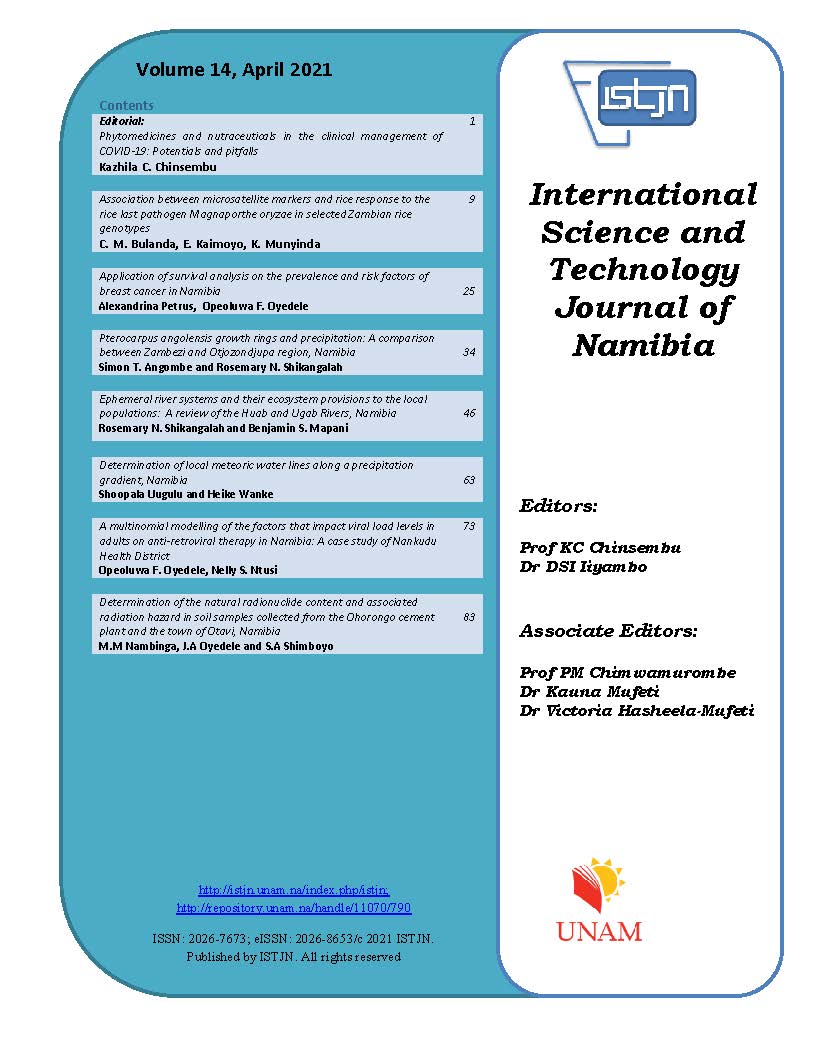 How to Cite
Chinsembu, K. C. (2021). Phytomedicines and nutraceuticals in the clinical management of COVID-19: Potentials and pitfalls. International Science and Technology Journal of Namibia, 14, 1–8. https://doi.org/10.32642/istjn.v14i.1534