Application of survival analysis on the prevalence and risk factors of breast cancer in Namibia
Keywords:
Breast cancer, Kaplan Meier, Cox Proportional Hazard, Survival analysis
Abstract
Cancer is a universal disease that drastically affects people regardless of race, sex, socio-economic status and culture. At an approximated population size of 2.3 million people, Namibia is not spared from this disease, with breast cancer diagnosis becoming more rampant in the country. For this reason, this paper was aimed at examining the prevalence and trends for breast cancer patients regardless of patients' sex, as well as establishing the risk factors associated with breast cancer in
Namibia. Secondary data obtained from the Cancer Association of Namibia from 2013 to 2016 was used. Survival analysis techniques (Kaplan-Meier and Cox Proportional Hazard) were used to estimate the survive time of the breast cancer patients. Results revealed that Khomas and Oshana regions had the highest percentage of reported breast cancers cases. It also revealed that the survive time of breast cancer was associated with the patient's age group and ethnicity. Furthermore, the survival time for patients aged 41-50 years and 61-70 years were higher, compared to patients who were less than 31 years of age while the survival rate for patients aged 81-90 years was low. Therefore, there is still a need for a greater focus along the breast cancer care pathway in Namibia, with emphases on improving access to early diagnosis at early age.
Downloads
Download data is not yet available.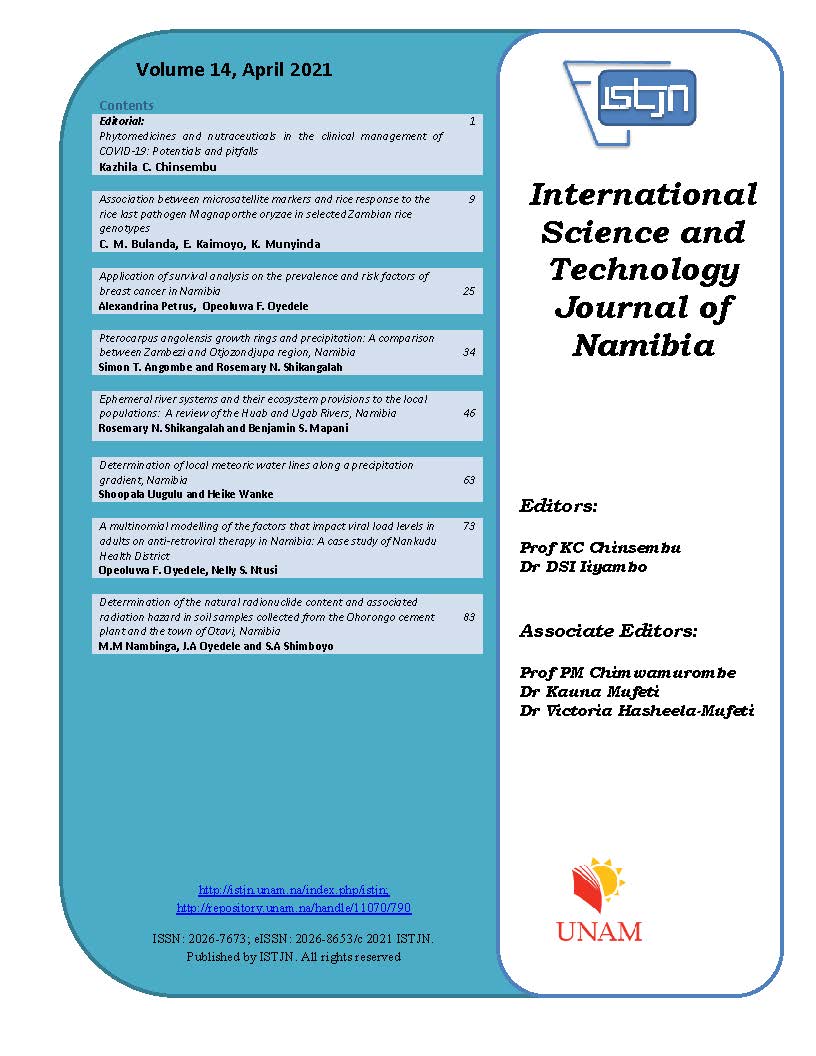 How to Cite
Petrus, A. ., & Oyedele, O. F. (2021). Application of survival analysis on the prevalence and risk factors of breast cancer in Namibia. International Science and Technology Journal of Namibia, 14, 25–33. https://doi.org/10.32642/istjn.v14i.1538